Preparing for Protests – Legal Observer & Know Your Rights Training by NLG and LRC
Sep 01, 2020
Cost 0.0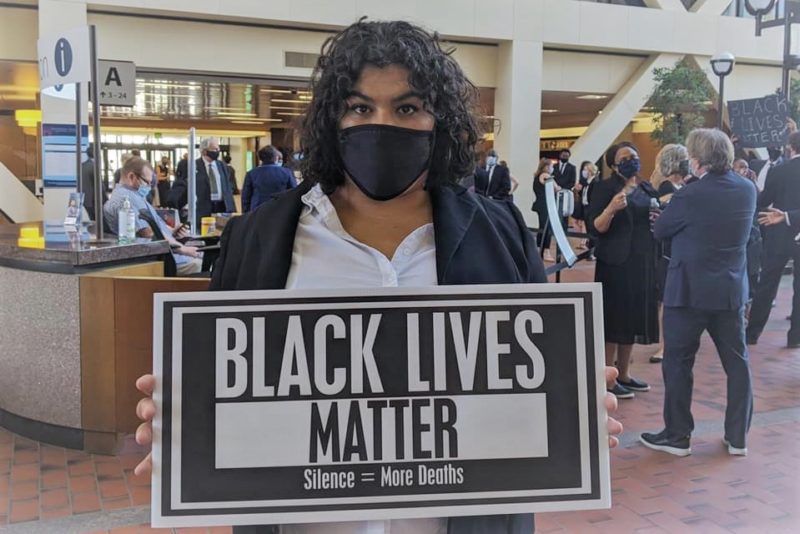 MABL Presents: Preparing for Protests – Legal Observer & Know Your Rights Training by NLG and LRC
Interested in supporting protestors and the public by using your legal expertise but not sure how? Join Legal Rights Center (LRC), Minnesota Association for Black Lawyers (MABL), and Minnesota's Chapter of National Lawyers Guild (NLG-MN) for this important two-part training.
MABL will provide an introduction to local community initiatives, including MABL's partnership with community organizations and law firms to provide pro bono legal assistance to businesses and individuals affected by local demonstrations.
NLG-MN will lead the first portion of this training, focusing on the National Lawyers Guild Legal Observer® program. This program is designed to enable people to express their political views as fully as possible without unconstitutional disruption or interference by the police and with the fewest possible consequences from the criminal justice system. The goal of the training is to educate and equip attorneys, law students, legal workers, and involved community members to be prepared to act as neutral legal observers at protests and demonstrations. The National Lawyers Guild Legal Observer® program traces its roots back to 1968 in New York City and a response to protests at Columbia University and city-wide antiwar and civil rights demonstrations. It has been widely used around the country since then at various events for a wide range of issues.
The second portion of this training, led by LRC, will support lawyers to become Know Your Rights trainers at actions and demonstrations around the State. During this training, we'll focus on protestors' rights under the First Amendment; rules related to city-imposed curfews; and how best to protect your rights when interacting with police. Leaving this training, lawyers will be ready to offer mini Know Your Rights presentations to protestors at demonstrations and will have access to Know Your Rights flyers created by LRC to be handed out to protestors at actions around the State. After completing this training, lawyers will also have access to our Know Your Rights trainer t-shirts so that protestors can easily identify you as a resource at actions and demonstrations.
It is important to note that, although lawyers can choose to use their skills at demonstration as a Legal Observer or as a Know Your Rights trainer, they cannot fulfil both roles at the same demonstration.
Details:
Tuesday, September 1, 2020, 12:00 p.m. – 3:00 p.m.
Virtual
Speakers:
Davida Williams (moderator), Attorney, Greene Espel PLLP.
Helene Haapala, National Lawyers Guild.
Chelsea Schmitz, Legal Rights Center.
Registration:
This event is free and intended for those living in and around the Twin Cities. To register, please Click Here.
CLE credit: Application for 3 Elimination of Bias CLE credit is in process.
There is a limit of 50 participants for this event. In addition, we ask that all participants sign an NLG-MN Confidentiality Agreement prior to the event and return them to Helene Haapala at haapala@charter.net. Click Here to find the link to the Agreement. A link to the Zoom CLE will be provided after registrants return the Confidentiality Agreement.
If you have any questions please contact: Davida Williams (DWilliams@greeneespel.com).
Co-sponsors include: Legal Rights Center; Minnesota Association for Black Lawyers; and Minnesota's Chapter of National Lawyers Guild.